Allison Lingren McGuire
Co-Creator, Stage Director, Community-Arts Development Specialist, Music/Theatre Educator, Musician
Trial by Jury, Gilbert & Sullivan
Central College School of Music
Directed by Allison McGuire
Trial by Jury, Gilbert & Sullivan
Central College School of Music
Directed by Allison McGuire
Trial by Jury, Gilbert & Sullivan
Central College School of Music
Directed by Allison McGuire
Trial by Jury, Gilbert & Sullivan
Central College School of Music
Directed by Allison McGuire
Bluebeard's Castle, Bartok
Opera Omaha (Andrew Eggert, Director; Hal France, Conductor; Julia Noulin-Mérat, Scenic Designer; S. Katy Tucker, Video and Projection Designer; Allen Hahn, Lighting Designer; Julia Noulin-Mérat, Costume Designer; Allison (Lingren) McGuire, Assistant Director)
Bluebeard's Castle, Bartok
Opera Omaha (Andrew Eggert, Director; Hal France, Conductor; Julia Noulin-Mérat, Scenic Designer; S. Katy Tucker, Video and Projection Designer; Allen Hahn, Lighting Designer; Julia Noulin-Mérat, Costume Designer; Allison (Lingren) McGuire, Assistant Director)
Bluebeard's Castle, Bartok
Opera Omaha (Andrew Eggert, Director; Hal France, Conductor; Julia Noulin-Mérat, Scenic Designer; S. Katy Tucker, Video and Projection Designer; Allen Hahn, Lighting Designer; Julia Noulin-Mérat, Costume Designer; Allison (Lingren) McGuire, Assistant Director)
The King and I, Rodgers & Hammerstein
Opera North (Catherine Doherty, Director; Jesse Factor, Choreographer; Allison (Lingren) McGuire, Assistant Director; Ken Goldstein, Set Design; John Bartenstein, Lighting Design)
The King and I, Rodgers & Hammerstein
Opera North (Catherine Doherty, Director; Jesse Factor, Choreographer; Allison (Lingren) McGuire, Assistant Director; Ken Goldstein, Set Design; John Bartenstein, Lighting Design)
The King and I, Rodgers & Hammerstein
Opera North (Catherine Doherty, Director; Jesse Factor, Choreographer; Allison (Lingren) McGuire, Assistant Director; Ken Goldstein, Set Design; John Bartenstein, Lighting Design)
The King and I, Rodgers & Hammerstein
Opera North (Catherine Doherty, Director; Jesse Factor, Choreographer; Allison (Lingren) McGuire, Assistant Director; Ken Goldstein, Set Design; John Bartenstein, Lighting Design)
The King and I, Rodgers & Hammerstein
Opera North (Catherine Doherty, Director; Jesse Factor, Choreographer; Allison (Lingren) McGuire, Assistant Director; Ken Goldstein, Set Design; John Bartenstein, Lighting Design)
The King and I, Rodgers & Hammerstein
Opera North (Catherine Doherty, Director; Jesse Factor, Choreographer; Allison (Lingren) McGuire, Assistant Director; Ken Goldstein, Set Design; John Bartenstein, Lighting Design)
The King and I, Rodgers & Hammerstein
Opera North (Catherine Doherty, Director; Jesse Factor, Choreographer; Allison (Lingren) McGuire, Assistant Director; Ken Goldstein, Set Design; John Bartenstein, Lighting Design)
Sarah, Plain and Tall by Joseph Robinette
Kate Goldman Children's Theater at the Des Moines Playhouse
(Allison McGuire, Director; Kevin Shelby, Scenic Designer; Susanna Douthit, Costume Designer; Virgil Kleinhesselink, Lighting Designer)
Sarah, Plain and Tall by Joseph Robinette
Kate Goldman Children's Theater at the Des Moines Playhouse
(Allison McGuire, Director; Kevin Shelby, Scenic Designer; Susanna Douthit, Costume Designer; Virgil Kleinhesselink, Lighting Designer)
Sarah, Plain and Tall by Joseph Robinette
Kate Goldman Children's Theater at the Des Moines Playhouse
(Allison McGuire, Director; Kevin Shelby, Scenic Designer; Susanna Douthit, Costume Designer; Virgil Kleinhesselink, Lighting Designer)
Sarah, Plain and Tall by Joseph Robinette
Kate Goldman Children's Theater at the Des Moines Playhouse
(Allison McGuire, Director; Kevin Shelby, Scenic Designer; Susanna Douthit, Costume Designer; Virgil Kleinhesselink, Lighting Designer)
Sarah, Plain and Tall by Joseph Robinette
Kate Goldman Children's Theater at the Des Moines Playhouse
(Allison McGuire, Director; Kevin Shelby, Scenic Designer; Susanna Douthit, Costume Designer; Virgil Kleinhesselink, Lighting Designer)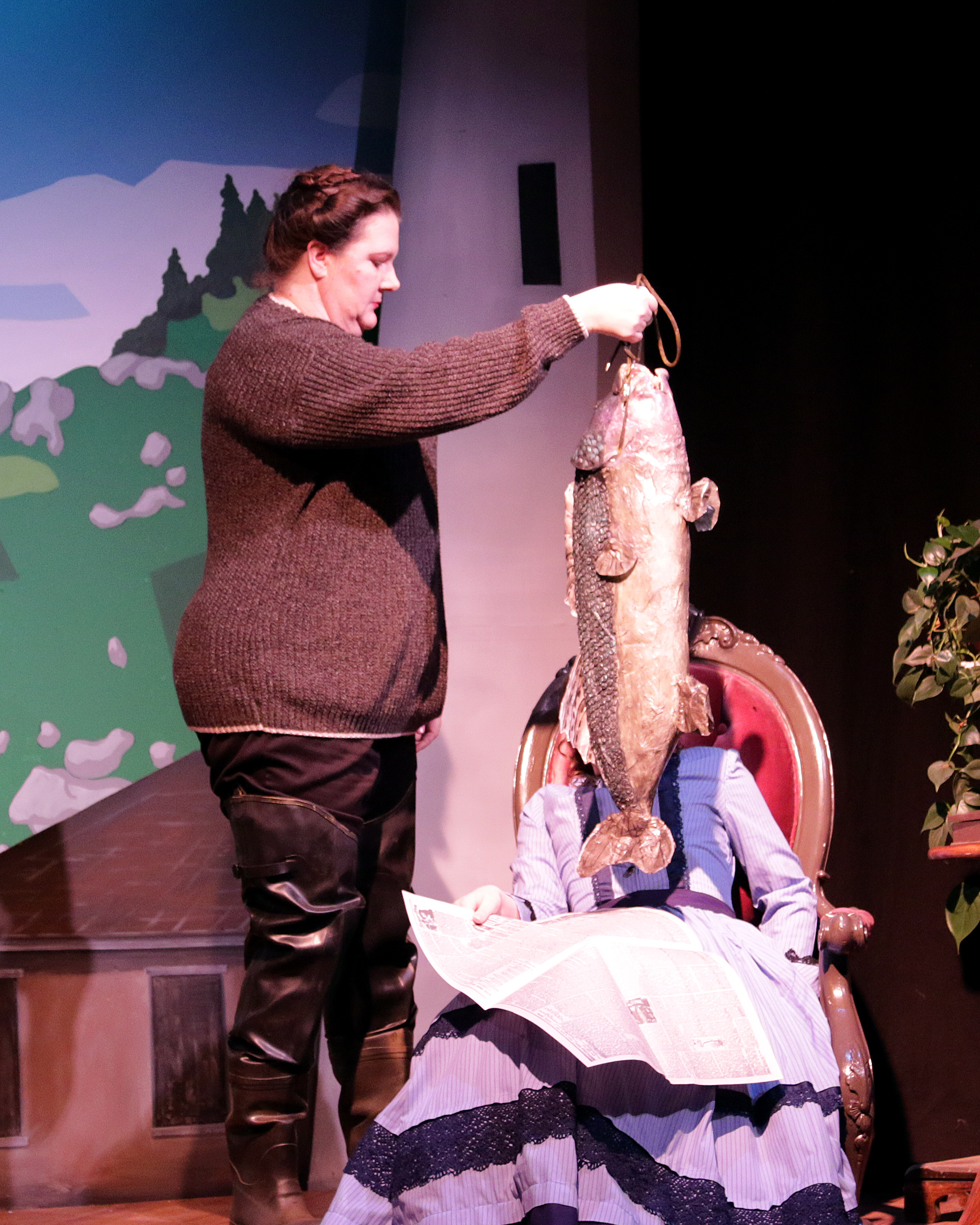 Sarah, Plain and Tall by Joseph Robinette
Kate Goldman Children's Theater at the Des Moines Playhouse
(Allison McGuire, Director; Kevin Shelby, Scenic Designer; Susanna Douthit, Costume Designer; Virgil Kleinhesselink, Lighting Designer)
Sarah, Plain and Tall by Joseph Robinette
Kate Goldman Children's Theater at the Des Moines Playhouse
(Allison McGuire, Director; Kevin Shelby, Scenic Designer; Susanna Douthit, Costume Designer; Virgil Kleinhesselink, Lighting Designer)
Sarah, Plain and Tall by Joseph Robinette
Kate Goldman Children's Theater at the Des Moines Playhouse
(Allison McGuire, Director; Kevin Shelby, Scenic Designer; Susanna Douthit, Costume Designer; Virgil Kleinhesselink, Lighting Designer)
Sarah, Plain and Tall by Joseph Robinette
Kate Goldman Children's Theater at the Des Moines Playhouse
(Allison McGuire, Director; Kevin Shelby, Scenic Designer; Susanna Douthit, Costume Designer; Virgil Kleinhesselink, Lighting Designer)
Sarah, Plain and Tall by Joseph Robinette
Kate Goldman Children's Theater at the Des Moines Playhouse
(Allison McGuire, Director; Kevin Shelby, Scenic Designer; Susanna Douthit, Costume Designer; Virgil Kleinhesselink, Lighting Designer)
Sarah, Plain and Tall by Joseph Robinette
Kate Goldman Children's Theater at the Des Moines Playhouse
(Allison McGuire, Director; Kevin Shelby, Scenic Designer; Susanna Douthit, Costume Designer; Virgil Kleinhesselink, Lighting Designer)
Sarah, Plain and Tall by Joseph Robinette
Kate Goldman Children's Theater at the Des Moines Playhouse
(Allison McGuire, Director; Kevin Shelby, Scenic Designer; Susanna Douthit, Costume Designer; Virgil Kleinhesselink, Lighting Designer)
Sarah, Plain and Tall by Joseph Robinette
Kate Goldman Children's Theater at the Des Moines Playhouse
(Allison McGuire, Director; Kevin Shelby, Scenic Designer; Susanna Douthit, Costume Designer; Virgil Kleinhesselink, Lighting Designer)
Sarah, Plain and Tall by Joseph Robinette
Kate Goldman Children's Theater at the Des Moines Playhouse
(Allison McGuire, Director; Kevin Shelby, Scenic Designer; Susanna Douthit, Costume Designer; Virgil Kleinhesselink, Lighting Designer)
Sarah, Plain and Tall by Joseph Robinette
Kate Goldman Children's Theater at the Des Moines Playhouse
(Allison McGuire, Director; Kevin Shelby, Scenic Designer; Susanna Douthit, Costume Designer; Virgil Kleinhesselink, Lighting Designer)
Sarah, Plain and Tall by Joseph Robinette
Kate Goldman Children's Theater at the Des Moines Playhouse
(Allison McGuire, Director; Kevin Shelby, Scenic Designer; Susanna Douthit, Costume Designer; Virgil Kleinhesselink, Lighting Designer)
Sarah, Plain and Tall by Joseph Robinette
Kate Goldman Children's Theater at the Des Moines Playhouse
(Allison McGuire, Director; Kevin Shelby, Scenic Designer; Susanna Douthit, Costume Designer; Virgil Kleinhesselink, Lighting Designer)
Sarah, Plain and Tall by Joseph Robinette
Kate Goldman Children's Theater at the Des Moines Playhouse
(Allison McGuire, Director; Kevin Shelby, Scenic Designer; Susanna Douthit, Costume Designer; Virgil Kleinhesselink, Lighting Designer)
Sarah, Plain and Tall by Joseph Robinette
Kate Goldman Children's Theater at the Des Moines Playhouse
(Allison McGuire, Director; Kevin Shelby, Scenic Designer; Susanna Douthit, Costume Designer; Virgil Kleinhesselink, Lighting Designer)
Sarah, Plain and Tall by Joseph Robinette
Kate Goldman Children's Theater at the Des Moines Playhouse
(Allison McGuire, Director; Kevin Shelby, Scenic Designer; Susanna Douthit, Costume Designer; Virgil Kleinhesselink, Lighting Designer)
Sarah, Plain and Tall by Joseph Robinette
Kate Goldman Children's Theater at the Des Moines Playhouse
(Allison McGuire, Director; Kevin Shelby, Scenic Designer; Susanna Douthit, Costume Designer; Virgil Kleinhesselink, Lighting Designer)
Sarah, Plain and Tall by Joseph Robinette
Kate Goldman Children's Theater at the Des Moines Playhouse
(Allison McGuire, Director; Kevin Shelby, Scenic Designer; Susanna Douthit, Costume Designer; Virgil Kleinhesselink, Lighting Designer)
Sarah, Plain and Tall by Joseph Robinette
Kate Goldman Children's Theater at the Des Moines Playhouse
(Allison McGuire, Director; Kevin Shelby, Scenic Designer; Susanna Douthit, Costume Designer; Virgil Kleinhesselink, Lighting Designer)
Trial by Jury, Gilbert & Sullivan
Central College School of Music
Directed by Allison McGuire
Trial by Jury, Gilbert & Sullivan
Central College School of Music
Directed by Allison McGuire
Trial by Jury, Gilbert & Sullivan
Central College School of Music
Directed by Allison McGuire
Trial by Jury, Gilbert & Sullivan
Central College School of Music
Directed by Allison McGuire
Trial by Jury, Gilbert & Sullivan
Central College School of Music
Directed by Allison McGuire
Trial by Jury, Gilbert & Sullivan
Central College School of Music
Directed by Allison McGuire
Trial by Jury, Gilbert & Sullivan
Central College School of Music
Directed by Allison McGuire
Allison Lingren McGuire is a stage director, music/theatre educator, and community arts practitioner based in Iowa. She has presented productions at the George Daily Auditorium, the Des Moines Playhouse, Central College Opera, Opera North in Lebanon, NH, and Knoxville Area Community Theatre.
As an assistant director, Ms. McGuire has worked with Catherine Doherty and Louis Burkot at Opera North and Andrew Eggert at Opera Omaha.
Allison was Artistic Director and a co-founder of Opera Eight, a Des Moines-based opera collective that ran from 2012 to 2015.
Ms. McGuire directed the Des Moines Playhouse's production of Sarah, Plain and Tall, which was one of three Des Moines metro-area shows nominated for "Best Ensemble" in the Family Division of the 2016 Cloris Leachman Awards for Excellence in Theatre.
Currently, Ms. McGuire works as the Director of Music Education at the George Daily Auditorium in Oskaloosa, teaching private music lessons and educational theatre classes. She is the Drama Director/Thespian Troupe Leader at Oskaloosa High School and oversees the George Daily Auditorium's fundraising efforts as its Development Director.
Ms. McGuire earned her Bachelor's and Master's degrees in Vocal Performance from Millikin University and the University of Nebraska-Lincoln.